The adoption of cloud migration started to accelerate globally during the COVID-19 phase as it simplified business processes and promoted remote working opportunities. Although migrating to cloud comes with many benefits, there are some risks involved in the process, too. We'll be discussing the top five cloud migration risks that commonly crop up during the process in this blog. Without further ado, let's explore the topic of risks in cloud migration.
What is Cloud Migration?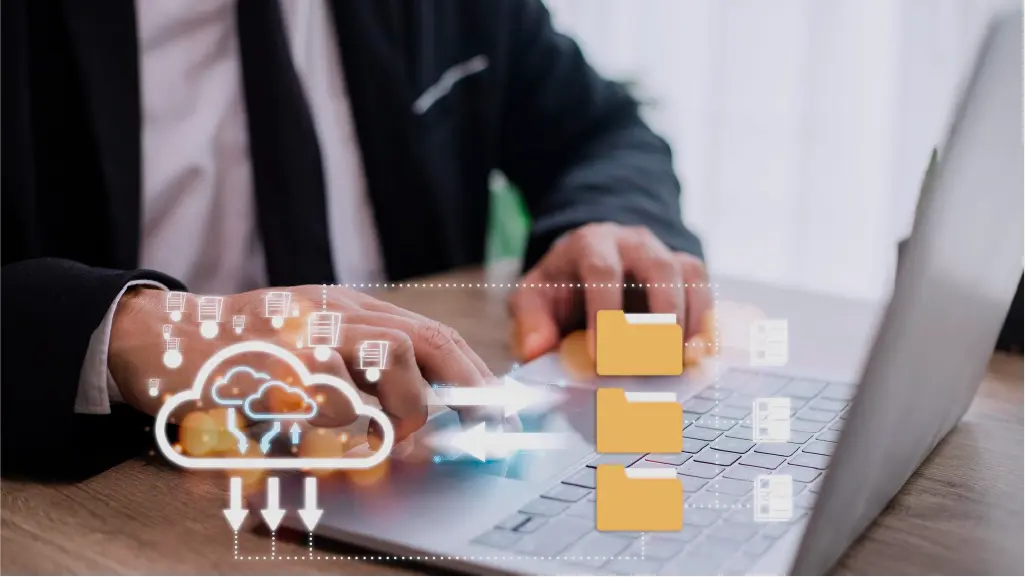 The process of moving client data, applications, digital assets, and services from outdated hardware and software to the cloud is known as cloud migration. It is one of the most crucial parts of a progressive transition in terms of a company's growth and evolution. It simplifies information technology and improves performance in managing online customer expectations. Although this is a great innovation, there are a few risks in cloud migration involved.
What are Cloud Migration Risks and Solutions?
Here's a list of some risks and mitigations you'll need to keep in mind to migrate your organization's data and assets safely:
Cloud Migration Risks #1 – No Plan Layout for Cloud Migration
As businesses handle countless data, assets, and applications using multiple servers and computers for smooth operation, subscribing to only one cloud provider poses a considerable risk. The cloud data migration can lock some or all of your applications on the provider's platform. Sorting out data according to requirements and operation on more than one cloud platform needs to be planned.
It is critical that systems be in place for a smooth migration to the cloud, depending on the workload and strategies. Whether partial or complete migration, no analysis and plan of cloud migration can leave your assets vulnerable and exposed to weak security and interface. This can result in denial of access, hijacking, and threats of ransomware and malware.
Cloud Migration Solutions for No Plan Layout:
The best way to deal with this risk of moving to the cloud is by creating a systemized layout for cloud migration with these points in mind:
Compare multiple cloud vendor services and their packages.
Analyze which parts of data and assets need to be migrated to which cloud platform.
Which data is sensitive and needs to be retained.
Capacity requirement of necessary use.
Plan according to requirements for your company's objective and workload.
Avoid extra expenses by checking the performance of cloud services.
Cloud Migration Risks #2 – Data Loss
Data loss is one of the most crucial risks in cloud migration. Data can get corrupted and result in data loss while transferring large volumes of data to cloud servers. This happens due to improper setting of rules. Retrieving this data can be expensive and nearly impossible, depending on size and format.
Careful supervision is required for end-to-end transfer. When data is not encrypted, it is vulnerable to several threats on the internet, also becoming another reason for sensitive data and asset loss. It will end up jeopardizing the company's reputation and service. Steering clear with a plan is crucial to avoid data loss.
Cloud Migration Solutions for Data Loss:
The best way to avoid cloud migration risks in data loss involves the following best practices-
Create backups for the data to reduce the chances of multiple failures and time consumption.
Test the transfer system at the beginning of the file transfer. This will avoid potential delays, dysfunctions, and bugs.
Have a file transfer management system in place and make sure network connection speed and bandwidth are optimum.
Encrypt data with third-party software or the cloud provider before end-to-end transfer.
Cloud Migration Risks #3 – Latency
Latency, in general, is the lag in data systems caused by bugs, overload, and weak computer hardware and software. This may seem like a minor issue at first, but it can become a potential risk if overlooked during cloud migration. High network Latency can cause slower request loading and a halt in operation.
Cloud Migration Solutions for Latency:
This risk in cloud migration can be resolved by the following methods-
Check SLAs(Service Level Agreements) for cloud standards before opting.
Enable QoS(Quality of Service) on your network to control traffic and ensure optimum performance.
Check network bandwidth and routers for issues and debug.
Make use of multiple cloud connectivity services, as this makes migration much more efficient and functional.
The power outage also causes sudden latency in migration, compromising the workflow. Have a backup in place for a power source.
Cloud Migration Risks #4 – Risks to Productivity
Once the cloud migration process is completed, it becomes the responsibility of the IT team to ensure a smooth flow of work and data security. Businesses must ensure that their IT team members are highly trained and are provided with the necessary tools and resources for optimum productivity. The potential of things getting out of hand is higher for small businesses than for bigger ones.
Cloud Migration Solutions for Risks to Productivity:
Resolve the risks of cloud migration mismanagement by utilizing the power of managed cloud services. Here, the platform is diligently maintained and optimized by the provider. This allows you the additional advantage of placing your complete trust in their hands for security and comprehensive cyber threat protection. This, in turn, liberates you from these worries, allowing undivided focus on pursuing your fundamental business objectives.
Cloud Migration Risks #5 – Long Migration Process
Moving data to the cloud can be a time-consuming task for large companies that are still using legacy applications. It can slow the business processes if they are functioning from different places. The productivity will temporarily be affected, and so will the finances and loyal customers.
Cloud Migration Solutions for Risks of Long Migration Process
The process of migrating to the cloud usually takes a year. You can tackle this cloud data migration risk of a long migration process by following the steps below:
Identify potential risks and seek solutions by precariously analyzing the architecture, applications, and process of the business in-depth.
Ensure that the people handling the cloud migration process have the necessary expertise and can meticulously assess cloud computing from every possible angle. This will help detect risks and prioritize necessary solutions.
Thoroughly analyze the business applications and data to ensure that the money and productivity of cloud migration are not wasted.
Why is Cloud Migration Important for Business?
Cloud migration comes with ample benefits for businesses. Some of the reasons why it is important for businesses are as follows:
It enables scalability by optimizing costs and allowing companies to adjust resources as needed flexibly.
It enhances accessibility by fostering collaboration and remote work capabilities.
Cloud services provide strong security measures and disaster recovery options. It guarantees data protection and business continuity.
It promotes innovation by offering a wide range of tools and technologies, boosting agility and competitiveness.
Businesses reduce maintenance burdens and gain operational efficiency by shifting from legacy systems to the cloud.
The global reach of cloud platforms improves customer experiences, and the environmental impact is reduced through optimized resource usage.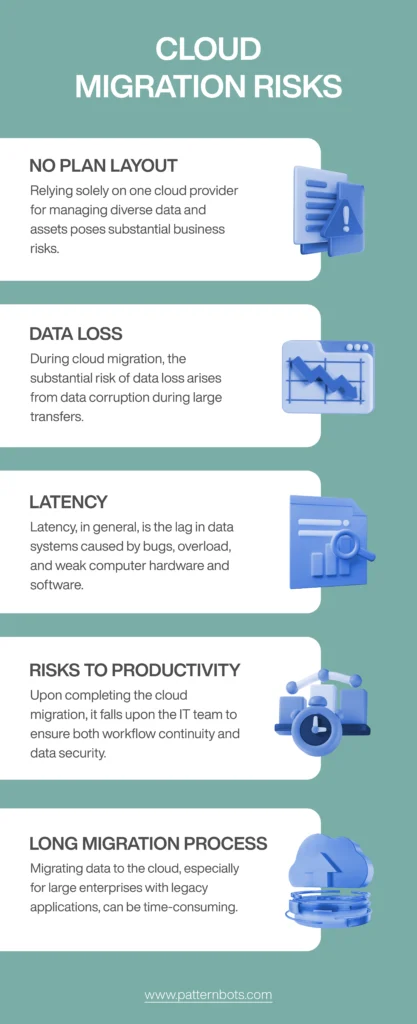 Conclusion
Cloud data migration is a crucial decision for businesses, and every detail of the business processes, applications, architectures, and risks must be thoroughly analyzed by the company of cloud experts. Cloud migration risk assessment is a critical process that business owners must sit and understand to ensure it will impact the entire business and how to mitigate risks.
To mitigate risks in cloud migration, always start by laying out a foolproof plan, and list out risks pertaining to data loss, latency, productivity and duration of the process. A detailed list of cloud migration risks and solutions will always come in handy as soon as any problem shoots up during the process. Choosing the right cloud service provider will always resolve a lot of problems that can crop up whilst cloud migration promptly.
Related Blogs –
Top 6 Cloud Migration Challenges & Solutions
Successful Cloud Migration Strategy, Checklist And Process