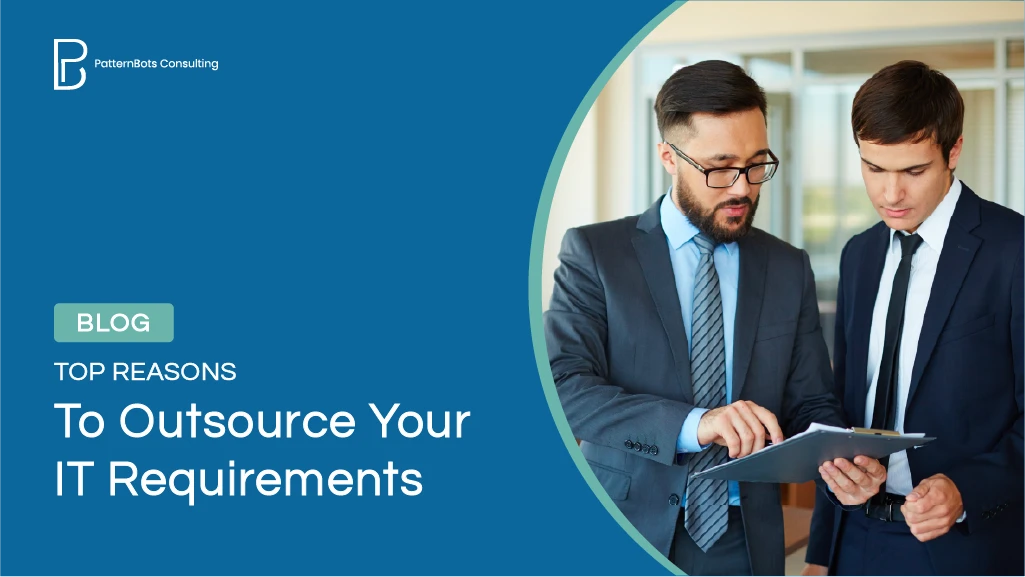 The business environment today depends heavily on an IT infrastructure that is effective and forward-looking. With it, your business may be able to compete with rival firms. Be it customer experience or customer support, you need a robust IT structure to fight in this competitive world.
In addition to this, most businesses may face cyber threats. A vital IT infrastructure is a requirement for every business, be it in-house or with an outsourced team.
You may have enough resources, but your in-house teams still can face multiple challenges. One common reason is availability. Constant stretch in availability may lead to lower productivity and morale. In such situations, the services of an IT support company, also known as an IT outsourcing company, may be taken. These companies have 360-degree managed IT services tailored to business requirements.
Let's dive into the reasons to outsource your IT requirements.
Reasons To Outsource IT Requirements

IT outsourcing is like getting help from a friend who's really good at fixing computers or handling technical stuff. Instead of doing everything yourself, you can ask this friend to do some of the work for you. In the business world, it's similar. Companies sometimes ask other companies or experts to help them with their computer systems, software, or other technical tasks. It's like sharing the work so everyone can focus on what they do best and save time and money.

Let's see how hiring an IT outsourcing company will help your business.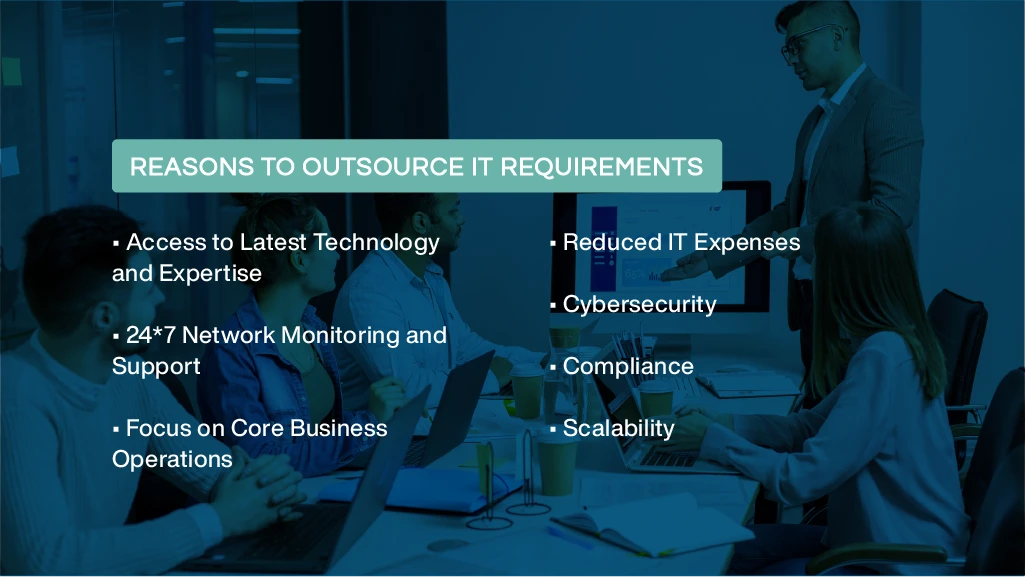 Let's dig deeper into these.
-Scalability
IT requirements can change constantly. It could be seasonal, operational or related to short-term projects. Software in use today, if upgraded, may become useful in the next six months. As a company, this means added costs as you need to know how much you would actually earn through it.
When you hire an IT outsourcing firm, you have access to their resources for the time you wish to use them. You can scale these resources based on your business requirements. This increased scalability enables you to grow in your field without worrying about IT requirements.
-Access to Latest Technology and Expertise
As mentioned, the IT industry is dynamic in nature. If you do not adopt the emerging trends quickly, you will become irrelevant. The internal IT teams will have time and responsibility constraints, which may lag them in fully exploring the latest technological trends. Furthermore, the unavailability of adequate resources is another issue for every firm. For an IT outsourcing firm, it is their core business.
Therefore, they will ensure they have all the technological inputs per the latest requirements, which they can provide to their clients. They will also recruit expert employees who can successfully deliver the client's needs. They usually hire niche experts who can then be provided to the client as per their requirements.
When you hire an IT outsourcing firm, you get a chance to access all this without putting much strain on your existing team.
-24*7 Network Monitoring And Support
Undoubtedly, your IT infrastructure plays a crucial role when dealing with critical business issues such as online transactions, communication, and client interactions. Therefore, it is essential to ensure that network issues don't arise in the future and cause these operations to be disrupted.
If there is a problem, you need a team on call that can offer prompt assistance as soon as possible. This becomes more crucial when you have a global customer base.
The in-house team will be available only for specific hours of the day. What will you do when they are unavailable, and you have an IT issue? If no one is there, you may lose out on revenue and customer trust.
However, if you outsource IT support, you will have a team around the clock. You may have a dedicated point of contact depending on the IT need. Have an issue? Reach out and ask for support along with round-the-clock network monitoring. You will be able to mitigate the risks even before they can create blunders for your business.
-Reduced IT Expenses
A fully operational IT infrastructure is expensive. Costs like hosting, hardware maintenance, and software infrastructure can affect your finances. Add salaries and other benefits like employee training, which makes it more expensive to have an internal team.
If you hire an IT services company to handle your IT needs, you will not have to incur any recruitment or training expenses. This is because that is the IT service provider's responsibility since it is part of their services. This means you can hire a team that focuses on your core business while the IT outsourcing team will take care of your technology needs.
Many IT companies also host IT infrastructure, which can reduce your space maintenance needs. This results in a reduction of rental and repair costs, affecting the overall maintenance costs.
One of the crucial reasons to outsource IT requirements is the access that they give to an operational IT team and services with reduced costs.
-Focus On Core Business Operations
Having a constant eye on the IT requirements means diverting your time and attention from the main revenue-generating stream of your business. This also means more time consumption for your internal team on monitoring and streamlining when they could have focused on the core services.
This may also lead to dissatisfaction among the team as they may feel overburdened and sometimes even left out.
Hiring an IT outsourcing firm lets your team focus on main business-related work. This improves the employee morale and productivity. Once these professionals start managing your IT infrastructure, you can focus on your business goals and work on growing your business. Experts professionals aid you in managing your IT requirements so that you can leverage business functions for growth.
-Cybersecurity
Technology may provide you with convenience, but it comes with its risks. One of the most prominent risks is related to cybersecurity. Cybercriminals are always on their way to get data illegally. You may fall into their trap if you need more measures ready. Just a click on an email and your entire data system is hacked. Also, there is no surety that your internal IT teams can cope with these threats.
Chances are that their work responsibilities may not provide the scope to stay updated with the latest cybersecurity trends. A vulnerable system means you are allowing the hackers to attack your private data.
When an IT outsourcing partner comes in, they know the ins and outs of such situations. Not only are they equipped with resources to handle such cases, but they also ensure that your IT system is strengthened enough not to let any cyberattack occur. They take corrective measures to reduce the risks at the first hint of a breach.
-Compliance
Compliance with data laws is crucial to operating globally. Every country has its own ways of protecting data, and you must be aware of it. Your internal teams are too focused on work, which may impact their focus on compliance. One minor issue and the business operations can face a legal battle.
When you hire an IT outsourcing firm, they ensure that compliance is a part of their work. They stay updated with relevant news and updates and can advise you on compliance requirements. Many IT outsourcing firms also support you by training your existing staff. This increases compliance awareness and improves the functioning of the organization.
Conclusion
Although you can rely on your in-house IT team to manage your IT infrastructure, they might feel they need more time to finish their tasks. Additionally, it may cost quite a bit. IT outsourcing firms provide multiple benefits like cost savings, scalability, and expert advice and even save you from all legal hassles. It is crucial to hire an IT service provider that can be advantageous for your company if you wish to focus on core business and yet have technology at the center of your business.

Patternbots has been helping many businesses in IT outsourcing by providing our optimized tech solutions. If you are also looking for one, contact us, and we will get back to you.