Strategize
Transform
Operationalize
Power of independent thinking and transforming businesses in patterns.
A CIO of your company should be your most strategic player. PatternBots understand your value and need for outsourcing your IT operations and service delivery. And thus we make a bridge between IT service and management and help in meeting enterprise goals.
Interim CIO
IT strategy and roadmap
Policy & process development

Project portfolio management

Merger and demerger

 
Our main area of expertise is to provide professional consulting and integration of SAP ERP system. Our catalog of SAP services focus on selecting the best and appropriate solution as per needs. PatternBots create a single point of truth for your strategic decisions and manage your projects and portfolios and resources with a single integrated platform.
SAP project management
SAP support across modules
SAP – implementation, upgrade, and rollouts
SAP platform merger and demerger
 
Let your data lift and shift systematically from the existing data center to another center or cloud. PatternBots lay a stepping stone for the digital transformation of companies. Get ready to build an agile data infrastructure which is more cloud compatible and container integrated.
Feasibility study

Cloud and DevOps migration

Modernization, simplification, and automation
 
PatternBots is a strategic outsourcing partner that speeds up innovation and transforms operations for maximum revenue generation and fruitful business impact. As your strategic outsourcing partner and enterprise innovator, PatternBots has extensively adopted long-term sourcing strategies.
IT transformation and transition
Technology & provider selection
Contract planning & negotiation
Service delivery management
 
Build your own web or mobile application with us. PatternBots provide extensive support at all development stages and guide you through all challenges coming in the way of the development process. Work with us and feel the difference.
IT transformation and transition
 
Our core values
We believe in shaping a better world by the power of digital transformation and unique patterns.
Specialization
Technology transforms every company with ever changing technology leadership goals. We produce better hires through our deep knowledge and experience.
Productivity
We believe time kills deals thus we use technology rich leadership networks to present you with desired quality services.
Trust
We build trust and rapport with clients, and candidates that they are never caught off guard. PatternBots is all about qualitative service providers, i.e. it sticks.
Transparency
If you are worried about the search status, then we are here to answer your queries. We are hyper communicative with clients and we focus to keep the search status clear.
15+ years of industry experience
5+ mergers and demergers globally
15+ SAP implementation/rollout globally
€ 6 MN + Opex IT budget managed
€ 1MN + annual savings achieved
80+ TB of data migration to cloud
To achieve success in a true sense, you need to understand people; who they are and what they stand for. PatternBots is so effective because we work as a team with clients. While choosing a partner to work with, we believe it is equally important and fair for you to know about us as a person, as a company. Fortunately, we never lost sight of our core values, which define and shape our workplace. We have committed personnel and a professional who have 15 years of experience in the CIO as a service and SAP project management.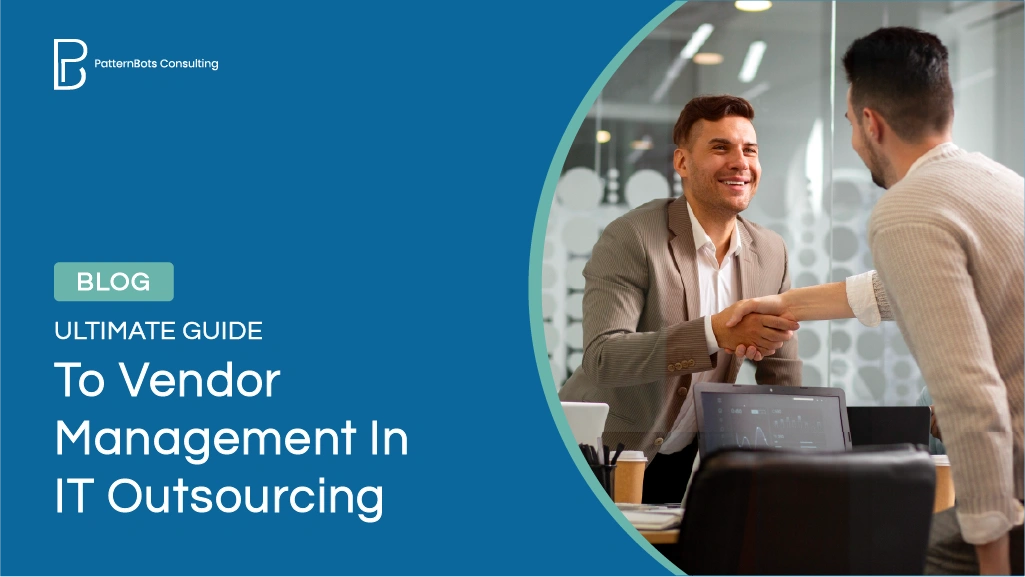 Outsourcing is a common practice in the IT industry. Many companies, big and small, rely on some type of IT outsourcing service. However, not all invest in a smart strategy to manage the IT vendors. This usually impacts the results. Vendors are a crucial part of every organisation. They enable you to perform business functions […]