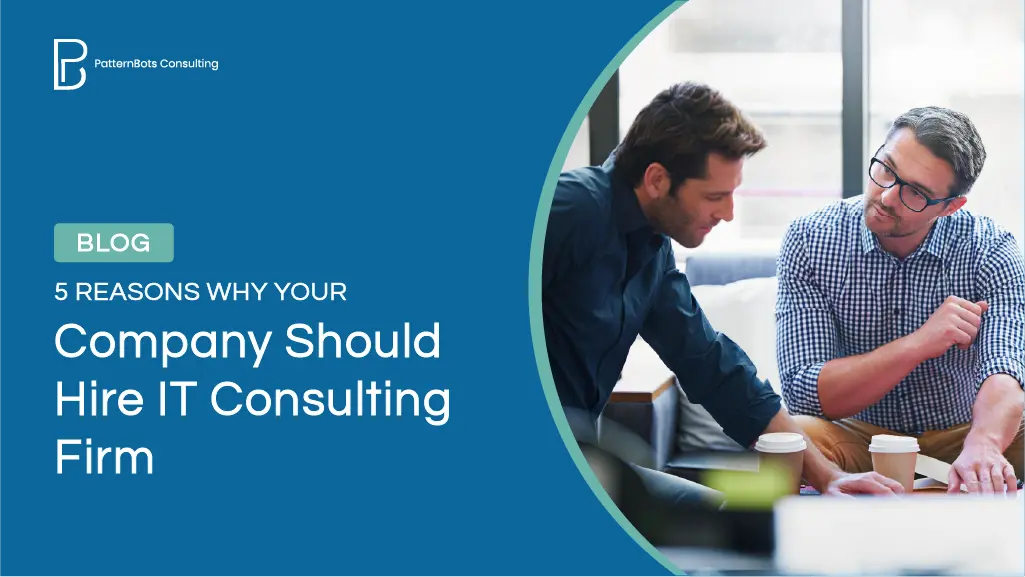 In the ever-changing world of business, technology plays a crucial role. Any organization that wishes to grow, irrespective of size, will take the help of technology. IT consulting & outsourcing firms are, therefore, growing in the number and services they offer. Can all businesses navigate the route of technology? Let us read more to know why IT consulting is so prominent.
The market size, measured by revenue, of the IT Consulting industry was $640.1bn in 2022. Imagine the scale at which businesses are adopting IT consulting services for their organizations.

With the digital landscape evolving at breakneck speed, it is challenging for a business to be updated with all trends and technologies. These changes range from cybersecurity to data management, and infrastructure optimization. With so many IT complexities, either the business must have a full-fledged fund to have a full-time IT team or should find a trustworthy IT consulting firm.
What is an IT consulting firm?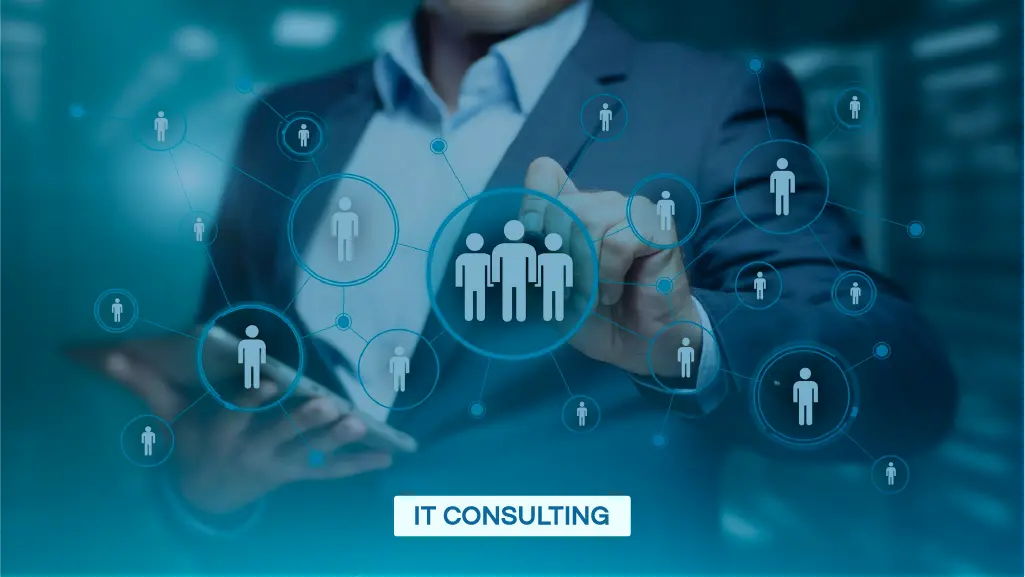 An IT consulting firm is an organization that is equipped with IT experts who know how to guide a business toward success. They are tech-savvy people who know the ins and outs of technology with its evolving nature. Imagine these technology experts all in one place, each having their specialization, working towards the success of a brand.
When a person is stuck on a crucial and complex topic that they are not fully aware of, they will reach out to someone who knows it. For every business, an IT consulting firm is the same. With years of experience and expertise, IT consultants assist companies in streamlining their IT operations, increasing productivity, and safeguarding their digital assets. The IT consulting firm ensures that all IT services are provided to the business so that it can scale without worrying about the next thing in tech that will impact them.
IT consulting services are not just about the present-day problems. These experts future-proof your business after anticipating what's next.
Who Can Hire An IT Consulting Firm?
Any organization, regardless of its size can outsource its information technology(IT) related requirements to an IT consulting firm. Depending on your business revenue, budget for outsourcing, and technological needs, you can hire an IT consulting firm for your business.
Businesses that already have an in-house tech department can also choose to work with an IT consulting firm if there is a need for expert guidance to scale. These IT consultants will guide you and your existing tech team to perform better, streamline your operations, and provide a roadmap for the future.
5 Reasons To Hire An IT Consulting Firm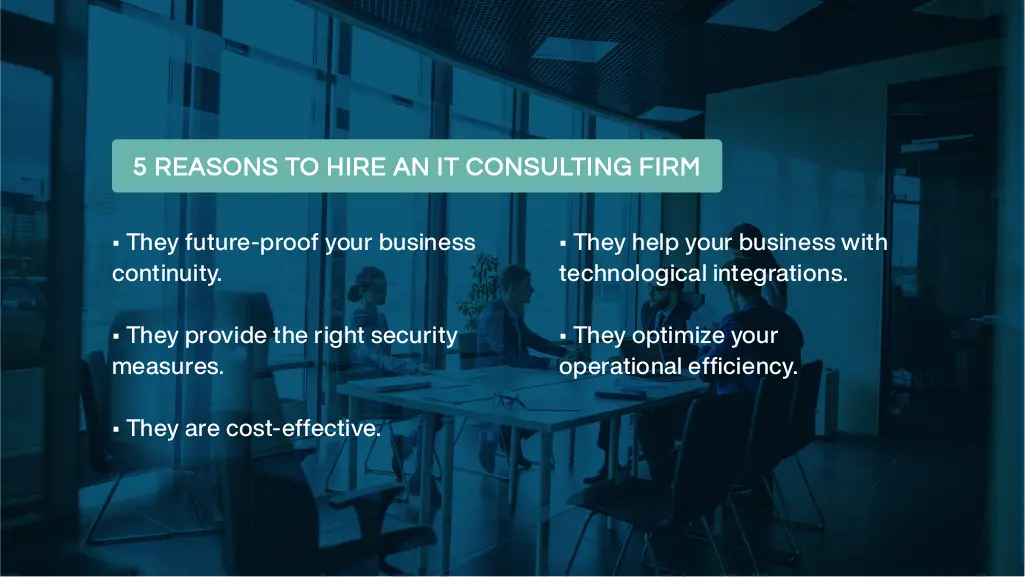 Now that you know that IT consulting is for every business that aims to grow and leverage technology, here are some pain points of a business, and how an IT consulting firm can help you!
1. Security Concerns
Businesses around the world are affected by data breaches and cyber-attacks. Every day there is news related to cybercrime or data manipulation, which impacts the brand value of the company. Other than data protection, compliance with laws like GDPR, HIPAA, etc. also hampers many businesses. There are different laws for different countries and regions, which if not followed can lead to a ban on your business.
How an IT consulting firm can help: The consultant comes in with global knowledge about security and the means to curb these malware and data attacks. They set up guidelines and the right measures for your business so that no external attack can impact it.
Even if there is some attack, these technical consultants can help your business come out of it quickly. To help with compliance-related laws, these consultants advise you on frequent changes and steps you need to take. An essential part of being an IT consulting firm is helping businesses identify vulnerabilities.
It is a mindset rather than just installing a few software and giving a few tips. This complexity can burden a business, which is why it is better to hire an IT consulting firm.
2. Technological Integrations
As you move forward in your business lifecycle stage, every business requires to update its technology. To maintain growth, organizations leverage the latest technological infrastructure. Many businesses fail to do so. This can be because they don't have a technical team, or because their existing team cannot manage more load. Integrations of new software and technology with current ones, in such cases, can lead to disruptions that if not managed properly, impact the business.
How an IT consulting firm can help: When an expert set of technical people understand your business, they build systems that can help you in growth. Transitioning from one IT framework to another requires skills that can come in handy with these consultants as they have experience doing that for multiple clients.
These could range from adopting new architecture to migration on new platforms. As these people have niche skills, your business is in the right hands. The IT consulting firms also provide you with TaaS (Team as a Service), in case you don't have a full-time tech team.
3. Operational efficiency
Many businesses face the issue when different technologies do not seamlessly integrate with their business. Some of the reasons, but not limited to, why operational efficiency is hampered can be:
Use of siloed systems
Use of legacy systems
Having incompatible systems
Lack of trained employees
Lack of scalability
Data concerns, etc.
How an IT consulting firm can help: IT consultants that work with your business will at step one identify what is working, and what is not working for your overall business. Then they focus on the solutions that can be implemented organization-wide to reduce this ineffectiveness. These could include guidelines, suggestions, advice, and practical changes (depending on your requirements). Efficient models like DevOps, etc., can be applied to govern the overall tech, hence affecting the entire operational efficiency of the organization.
4. Economics Of Return
Even after having a full-time tech team, many organizations face tech issues. This could happen due to various reasons, but it hampers the bottom line. Organizations that use tech at the centre of their business need to focus on ROI too. This is usually disturbed when you require niche help when it comes to technological upgrades, threats, and disruptions.
How an IT consulting firm can help: Most businesses benefit when they hire IT consulting firms as these firms help you at better costs. Having someone come in ad hoc usually costs more, and they may not be able to help you.
Instead of this, with IT consulting firms you get access to every type of niche support, with consultants that have expertise in your pain point. You can save on overheads, operational costs, and premium pay. Pay only when you take the service and around 20-60% of your costs are saved!
5. Business Continuity
One pain area of many businesses is that whenever there is a critical issue, everything gets to a standstill. Business continuity is essential even when such issues come, as quick thinking and the right measures are the only things that can save you. Imagine having a data breach, and the entire organization gets into a havoc mode. Instead of this, you need someone to guide you out of such a situation, while maintaining the everyday functions normally.
How an IT consulting firm can help: IT consultants create business continuity plans that outline ultimate strategies and architecture frameworks to ensure optimal operations even in disasters. These plans are a combination of approaches (security as code, policy as code, etc.), tools (both software and hardware), and fallback mechanisms (network switchover, load balancing, etc.)
Wrapping Up
Outsourcing your IT consulting services to a reputed provider will help your business gain more heights. An IT consultant will not only save costs, but also improve your functionality, help you in situations of crisis, & help you build a better team for the future. Patternbots has been helping many businesses in similar domains by providing our optimized tech solutions. If you are also looking for one, contact us and we will get back to you.