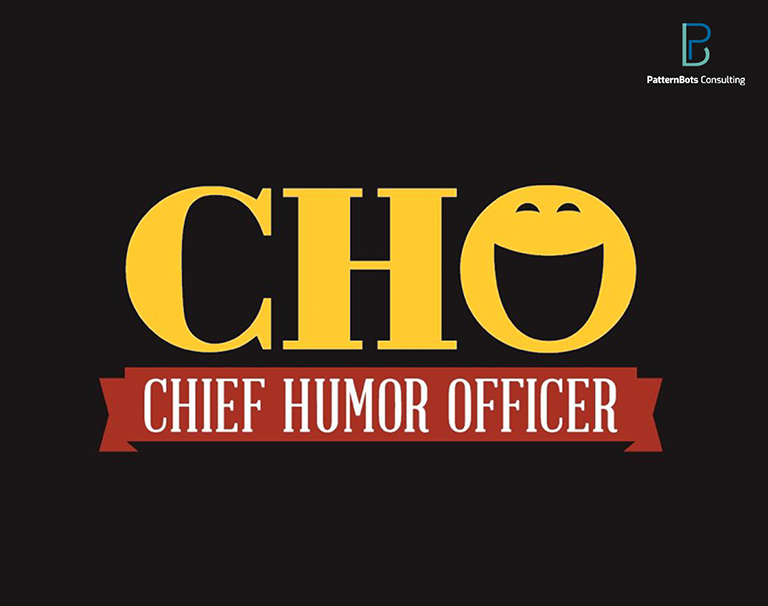 As we all know, IT is a tedious and challenging profession. It takes years of training and experience to become proficient. The hours are long, and people spend time mostly in front of a laptop or on call. With constantly evolving industry and continuous changes, we forget about the importance of humour at the workplace. Being in the tech-savvy company even sometimes I feel completely blank with constant coding language chit chats. Ahh, sometimes I think every company should have a secret weapon: a sense of humour or a chief humour officer 😉
With CIO, CTO, COO and XYZ I think there should be someone with a tag of CHO(Chief Humour Officer). Most of the CTOs/CIOs I know have a great sense of humour, and this relieves stress and provides comradery within the organization.
Strategic and purposeful humour at workplace
Research signals about how strategic and purposeful humour at work can help an organization grow and brand themselves. How it can attract employees, improve employee morale and engagement levels, improve employee retention and reduces employee absenteeism. Humour activity also enhances creativity, improves workplace communication and productivity.
Some data from Michael Kerr, Humor at Work. to show the importance and employee thinking regarding fun at workplace.
75% of respondents in a survey said the number one kind of a workplace they'd be most reluctant to leave is one that was fun, with good working relationships and high levels of trust
82% of employees at Fortune 100 companies that were rated as "great" places to work by the Great Places to Work Institute agreed with the statement: "I work in a fun organization" (only 62% of employees in "good" companies agreed)
A meta-study of 275,000 people in more than 200 studies found that higher levels of employee morale and happiness translated into lower absenteeism rates, lower employee turnover rates, higher sales, more creativity and higher productivity
Hewitt and Associates found that companies with higher levels of employee engagement and happiness outperformed other companies financially by 19%
Companies that focused on morale during the most recent recession bounced back faster
A study by Professor William Hampes found that there is a positive correlation between humour and trust
Good business sense through humour– need of chief humour officer
Humour in the workplace is essential. As we spend so much time in our lives there, it is important for us to express ourselves authentically. Far from wasting time and destroying productivity, humour makes a good business sense. Let's keep in mind the relationship between chicken and egg, and thus we can say that humour not only drives success, but it also reflects success.
If a leader is thinking to deal effectively with employees, then humour is a must-have quality. A good sense of humour helps in effective dealing with employees. Let's throw some light on the reasons why humour is essential at the workplace?
Humour helps create a common ground and fosters productivity, communication and collaboration.
It makes a leader approachable among peers or juniors
A leader with better humour quality is considered well equipped to deal with the crisis
A leader with good sense can earn popularity and respect among its peers
Positivity at the workplace is showcased through a great sense of humour
Well, going through some positivity and humour stuff came across best lines-
"A chief humour officer will never be appointed as a member of BORED.
And also he could not allocate FUNds, but undoubtedly was reimbursed by a smiley."
Follow these pointers to ensure effective humour at the workplace and success and to attain successful productivity.
Don't let too much humour effect or distract employees from their task.
Consider choices: too much humour can sometimes either become bitter or offensive. Try to maintain the balance.
Humour should be appropriate and contextual; we should keep in mind cultural and personal sensitivities.
Key takeaway points-
IT people do a lot of funny things and yes some DUMB as well, but well that's natural. Humour diffuses the tension and encourages to collaborate, motivate and help prevent burnout. A leader with a good sense of humour quality signals confidence, competence and high status. It is a sort of cultural trend and encourages people to be themselves and enjoy working at the workplace. This type of environment results in a more loyal and productive workforce. We are happy to hear your idea of fun at a workplace or some funny workplace stories. Please share your experience in the comment section below and let us know who is your chief humour officer. Get efficient work from our highly talented and satisfied team who makes hard work light through their smart thinking and executing.