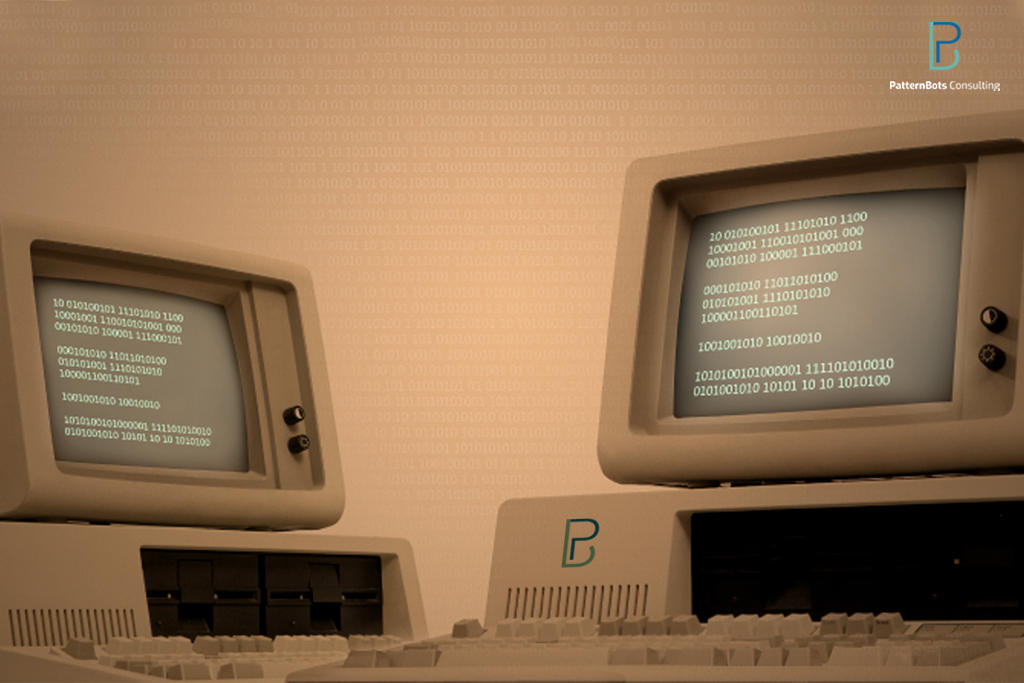 Organisations are already using technology to beat the challenges raised by new customer demands, disruptive operating models, and inefficiencies. But the covid-19 pandemic shrunk the timeline to pursue paths of growth and expansion. Businesses found new lifelines to hold the foot in a volatile market through facilitated software modernisation of core systems. New technology and the rise of IT modernisation, mobility, automation, remote data access, cloud and security made it mandatory for organisations to adopt change. 
PatternBots, as an IT outsourcing and software development company, help businesses and peers to understand the pain points. We help them develop possible change scenarios and identify opportunities for value gain.
"Using software modernisation as a tool, we reshape business capabilities, competitive positioning, process evolution and operation management – we help clients seize an opportunity in crisis."
What is software modernisation?
It includes all the distributed systems and interfaces which you and your employees use daily. Sometimes it is called a legacy system, an interface that most people know in your company and have appreciated using because they have used it for a long time.
Software modernisation uses a new language and utilises different hosting platforms, protocols and libraries, and it takes your existing software and converts, rewrites and ports it to the existing application. The goal is to transform your system completely and extend values instead of buying something new. All you need to do is keep your software's basic structure and change what does not work. For every company, software modernisation tasks are different and does not work on the concept of "one size fits all".
Encompassing strategies to pin businesses for 2021 and beyond
Technology businesses, please take note! A long-term perspective is key to moving forward in the right direction. Embracing cloud applications, API integrations, DevOps, and game-changers like artificial intelligence, machine learning, and robotic process automation has become the need of the hour.
Technology tends to pre-configure future pipelines. What will guide the trajectories taken? We believe automation, urgency for location-agnostic operations and data-driven insights guide through the entire software modernisation process. With the rapid, visible change, the following technologies will lead to a step-change improvement in 2021.
These five rapid changes show us the impact of technology modernisation on business.
Multi and hybrid cloud platforms keep organisations on track and establish a holistic technology framework. Organisations can keep track of more wholesome success in terms of productivity, agility and resilience.
Ensure future productivity through integrated automation solutions. It is best for organisations that are looking beyond process automation and success. Add more business value per dollar of investment through the flow of information in all dimensions. It is done by integrating and automating hardware, software services.
A business will delve deeper into the digital-first approach along with pandemic-led operation models, and this approach can help in workforce acquisition, management, delivery and reporting. Organisations need robust cloud-based application frameworks to facilitate anywhere operations and distribute self-served mode of working.
What will be the guiding principle of digital transformation initiatives? A process-based modernisation or a product based modernisation! Process modernisation offers a wholesome experience to employees, and product modernisation enables users and customers to achieve more in less. Organisations need to align these vector experiences so that one can strengthen the other.
The aftermath of 'anywhere operations' will continue to be the focus of technology investments. Organisations need a proactive strategy instead of a reactive modus operandi. They need technology enablers to secure perimeter for remote working, cloud portfolio and other intellectual properties.
Takeaway points
What will shape the operations in the new normal and beyond? The cloud, blockchain, AI, analytics and automation rule and shape the operations. Software modernisation helps organisations and technology to partner well with a clear vision and prepare to meet challenges in the new battleground. Learn how we plan to ace up digital disruption by contacting our experts.