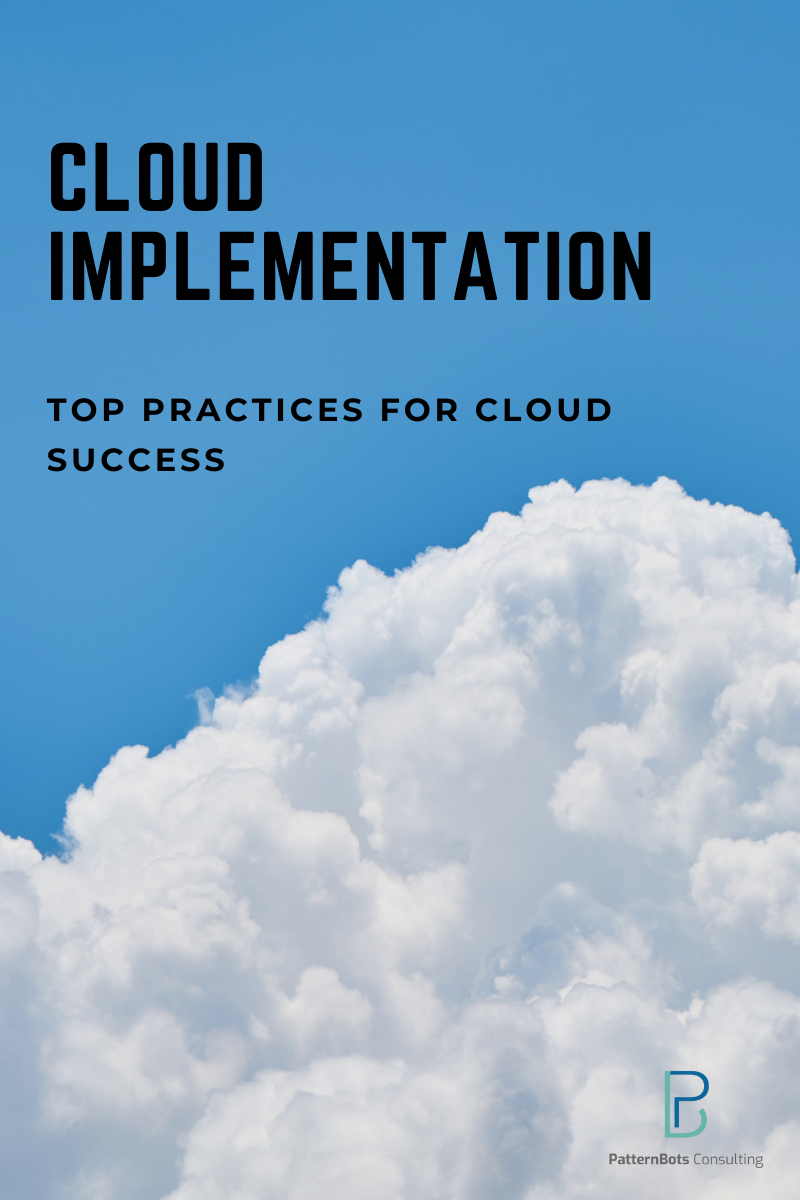 Cloud implementation: Best practices for cloud success
Automation is advancing at a fast pace. The world is readily adopting new trends and technology, and among all, automation gives the organization an edge. Moving workload from on-premise to cloud is convenient and cost-effective. A company needs to focus on crafting a detailed blueprint. What is important in today's world is the blueprint. It does not matter if an organization wants to shift the entire portfolio or workload. Without the blueprint, it can get chaotic and expensive. Therefore cloud implementation requires a strategic approach, and cloud deployment should have advanced technologies such as AWS regardless of cloud implementation steps.
Let's check the five best practices you can use for cloud success for your business.
Cloud-first commitment
For all key stakeholders and companies, cloud implementation is a considerable change. Thus it is essential to have an exact reason to move to the public cloud. Businesses switch to the cloud to keep up with the industry and have no clarification about the same. By using cloud-first, shift your data completely without leaving anything on-premises. What results best is the integration of all the processes.
Cloud business office
cloud implementation brings extensive transformation with cloud implementation. What changes the whole dynamic of work is advanced and evolutionary processes. Infrastructure requirements can be modified and created to help software. To tackle swift implications, developers suggest cloud business offices. What impacts software development negatively is the log approval cycle and rigid control impact. The cloud business office can become a welcoming change for faster business IT development.
Educate users and in-depth training
If the users are not well educated, then a perfectly designed blueprint for cloud implementation will fail. An organization must focus proactively on providing in-depth training. Cloud users need to perform the day-to-day task and need to understand it to the core. The benefit of training is it will impart technical education and make users understand the advantages and importance of cloud implementation. The probability of cloud adoption barriers among the users will decrease.
Experienced partner service
Cloud implementation is a complex process. Proper planning and thorough execution is a must by an organization. Avoid heavy loss of money and data by working on all single steps efficiently. So to avoid such loss, it is advisable to take the help of professional service providers. This step will streamline the process and decrease obstruction in cloud implementation. Many businesses have found it helpful in improving delivery.
Automate
Cloud implementation is a complex and time-consuming process. An organization should focus on speeding up things and automating as many functions as possible. This process will reduce operating and labor costs. Based on clouds, experts advise automating provisioning, configuration, and management of infrastructure. This will result in minimal disruption of resources and better utilization of time. It will drive mission-critical innovation in the organization with ease of doing. the cloud implementation journey is difficult, but you can make it effortless through the right steering. It is very important to follow best practices in order to ensure better performance and make the whole process economical. PatternBots experts completely study all the aspects and make sure your cloud implementation journey is economical and high-performing.