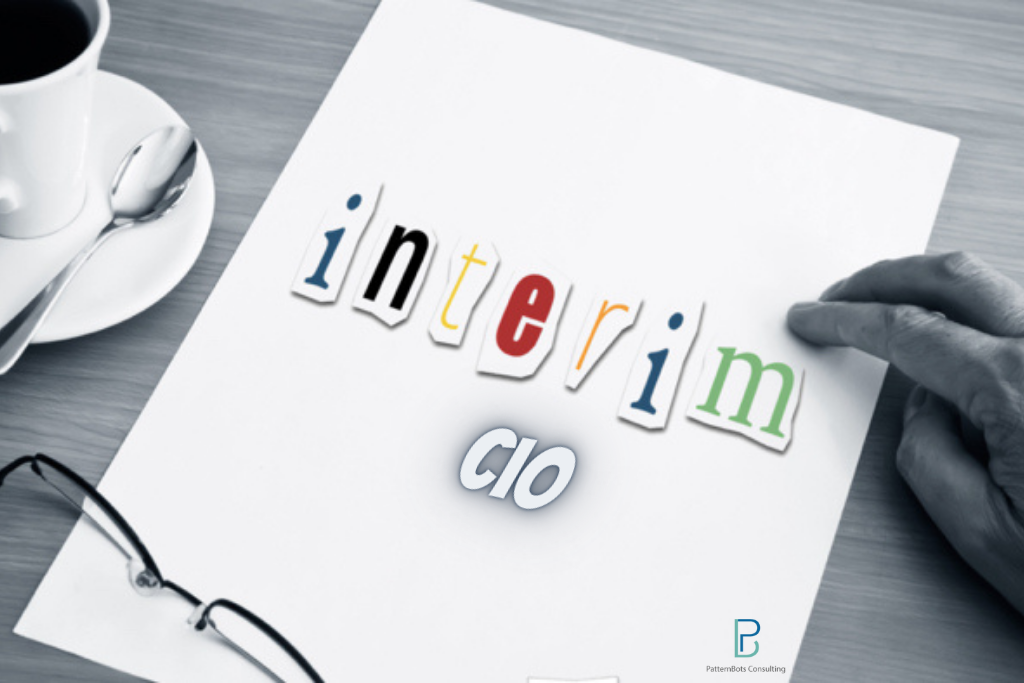 What is an interim CIO?
Interim CIO or contract CIO is a qualified chief information officer who gives services to organizations temporarily. We typically hire them for a particular period, say six months to two years.
Depending on the company's requirement, an interim CIO is hired, such as transforming an IT department or fixing pain points or revamping IT strategy and handling specific projects to see the capabilities and best fit. The less obvious reason when an interim CIO is hired is the event when permanent CIO are unexpectedly unavailable or on maternity or paternity leave. So INTERIM temporarily assists or takes the responsibilities of a permanently hired CIO.
An interim CIO has to be of instant value to an organization. An expert interim will take any challenge or responsibility and fix the company's IT department loopholes. CIO takes technically challenged projects assigned to permanent CIO and focuses on bringing transformation within the organization.
Sometimes an interim CIO is introduced to perform tasks like technology audit and to assess optimal set-up from an infrastructure perspective. A specific project or initiative drives the need for CIO.
Let's check the five used cases where an interim CIO plays an important role.
Business and ERP system implementation
When a company wants to automate different department work, say from finance to accounting to supply chain and customer relationships the company looks for enterprise resource planning (ERP) solutions. Implementing a big solution is always a question of concern and comes with challenges, especially when it comes to mergers and acquisitions with legacy systems or between multiple divisions. An interim CIO brings integration and implementation experience which IT directors of fresh out consultants don't have.
M&A and business integration
When companies merge or acquire the different system go hayway and thus require integration and reconciliation to function smoothly. In such a case, the question is who will choose which technology platform to keep and which to discard? How will teams merge and integrate? An Interim CIO creates a plan of action and completes the division of the company on a project basis. In some cases, chief information officers can serve as CIO, CFO, COO. The interim CIO fortifies the permanent management team for M&A special projects and technology transitions without adding to permanent overhead.
Digital and Cloud Solutions
Though every company is department-specific, say HR, customer service, supply chain, finance and other business functions but still, SaaS and cloud service companies run independently through each business unit. A CIO takes a holistic view while working with a suite – CEO, COO, CFO, CMO, CSO to streamline enterprise solutions and ensure smooth functioning, data security and compliance and create a strategy around the use of data. The interim CIO led to concerted strategy and blended disparate technology efforts into unified enterprise solutions or data models.
Global outsourcing
Certain companies save by taking certain business functions outside the walls. A CIO is hired to restructure the IT department and to manage all aspects of technology migration to service providers. The main role of the interim CIO is to lower the operational costs by orchestrating and blending external IT outsourcing and internal IT organizational restructuring.  
Security guidelines and compliance
For business, cybersecurity is an important concern. Industries like healthcare and finance are regulated by HIPAA and PCI compliance but in other cases, customer integrity and data of customer and company needs to be regulated timely and complete protection is a must. An interim CIO put together the system processes to deal with and evolve compliance requirements and lower business risks and help reach audit worthy levels of regulatory and ensure business integrity. What more added is customer valued security, privacy protections and industry reputation.
What factors to consider when hiring an interim CIO?
It is a very crucial question and boards need to think wisely about it as their company needs to collaborate with someone who is well versed with experiences. That is an executive with experience and gravitas. In case of an interim board looks for a partner with strategic input and long-term vision. Every higher authority level will want to hire someone who can streamline the technical chaos and educate them and answer questions and provide proper guidance. For a successful tenure, the interim's relationship with the board is critical.
What are the trends that every CIO should know about?
CIO should be aware of trends and have answers about the same. Digital transformation is an overarching trend, and this trend is accelerating at face pace by others.
Modernization of IT: IT is essential and important for everyone. In past everyone wanted to use their own hardware but now buying software has become lot easy and people can connect easily.
Revolution by Internet Of Things (IoT): with the launch of ever-increasing sensors that are producing data out in the world, it has become more important to use data smartly.
Analytics and algorithms are key: increasing speed and abundance of data has to make quick storage and interpretation is key to success.
Data ethics and security: it is very important to know what organization can do with their data and who is the owner? How to safeguard illicit use of data? Rules and regulations regarding data are becoming stricter.
Information belongs to everyone: in finance and IT, processing, interpretation and distribution of data is no longer the sole domain. Everyone in the organization works with it has to access it in real time.
Wrapping up-
PatternBots work magic on digital transformation and work deep down to find all the elements which affect the growth of a company. Our expert CIO studies every project deeply and works on all the major details. We advise and work hard with technical faults and help an organization streamline its functioning. To know more about our services you can contact us at: [email protected]