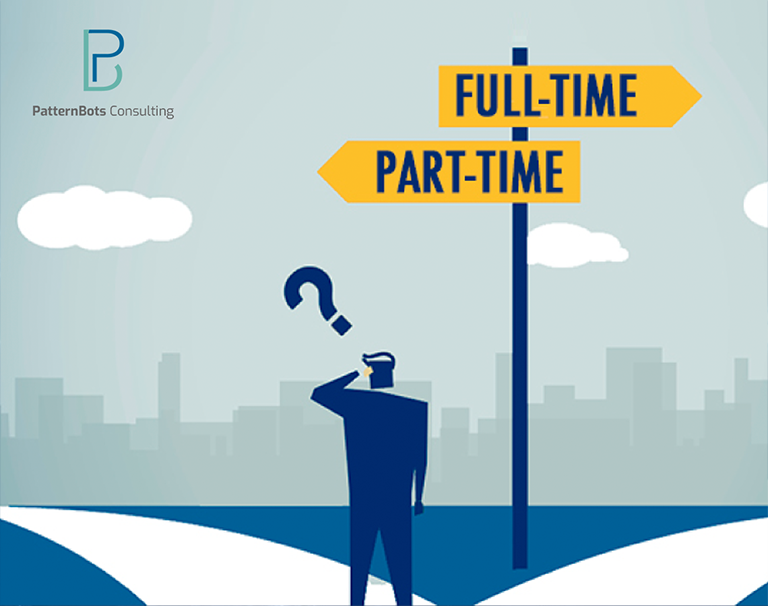 Interim CIO services demand in the IT world is very high and is in many forms. When the senior IT position is vacant suddenly, and there is no person to step up, then the executive team should act quick and smart. In this situation, executives turn to specialized firm and trusted networks to maintain IT health.
Well, there is a universal question- do your internal IT organization possess the leadership quality needed to pursue organizational goals.
There are many reasons which show why companies find themselves in situations where the executive IT position is unfilled.
Job transfer
Resignation
Maternity leave
Termination
Illness
promotion
Outsource your executive IT position and interim CIO services with PatternBots.
Our economy needs are fulfilled by interim CIO services.
PatternBots arrange and facilitate interim CIO to help companies survive and thrive IT needs of leadership transitions. We make several commitments well working on the service procedure. Availing interim CIO services ensure business continuity at the IT level.
Commitments you will get from PatternBots-
For your internal IT organizational requirements, you will have the IT leadership.
Every effort from our end will ensure your progress during the transition.
We will ensure a better face and shape of your internal IT structure.
No worries regarding compliance and security.
Why choose PatternBots for your interim CIO needs?
Your internal IT organization gets leadership
Pro-growth projects continue on schedule
Honest reviews on the strength/weaknesses of an internal IT organization
Ger business technology aligned with upcoming CIO
Choosing the right interim CIO for your company's strategy
To maintain the balance between the above 4 points and attract an individual who has track records of your critical areas is very tough.
These are some pointers to untangle before embarking on a search for an interim CIO. If your company plans are to achieve a lower price and better results simultaneously and if it is looking for internal efficiency, excellence and online experience or want to overcome some specific issues and risks then these points are inevitable.
Is your company looking for someone to envisage and lead significant change or someone for gradual improvement and fixing issues?
Are you looking for someone to manage an internal team and external suppliers simultaneously?
People who thrive in a situation of major change have personality and behavioural differences and manage steadier improvements. Likewise, there is a great difference between people who build and enthuse internally, and the ones who manage external suppliers through contracts.
Benefits of outsourcing/ hiring interim CIO or Interim management.
Problem-solving attitude – Practical and proven management solution
Immediate, lasting results- Result-driven through effective approach and focus
Desired leadership
Desired outcome through guaranteed experience
Prompt deployment- speed is maintained
Experts available temporary and on affordable rates
Objectivity and independence
Clarity
Accountability
Flexibility
Dedication and knowledge transfer
Committed to task accomplishment
Value for money
Patternbots give you strategic IT consulting and advice in particular areas-
Interim CIO Services
Virtual CIO Services
Technology Risk Assessments
Transforming IT Teams from Service Providers to Strategic Partners
CIO and Executive Coaching
IT Strategic Planning
Project Management
Budgeting and Technical Hiring
IT Policy Management
Business Process Re-Engineering
Conclusion-
Being an interim, the best practice is to "meet & greet" key leaders. Learn and understand their IT needs. AS a standard approach, we ask four questions:
What's working well with the company?
What's not working well?
Being an interim, how can we have the greatest impact?
What are the essential requirements for the upcoming permanent leader?
The above topic opens up very honest and candid discussions and helps the interim leader quickly identify key gaps and focus area. PatternBots offers a unique and comprehensive package of services that the C-suite can rely on. Feedback and suggestions are appreciated. If you want to discuss our services and consult, feel free to contact us at [email protected]