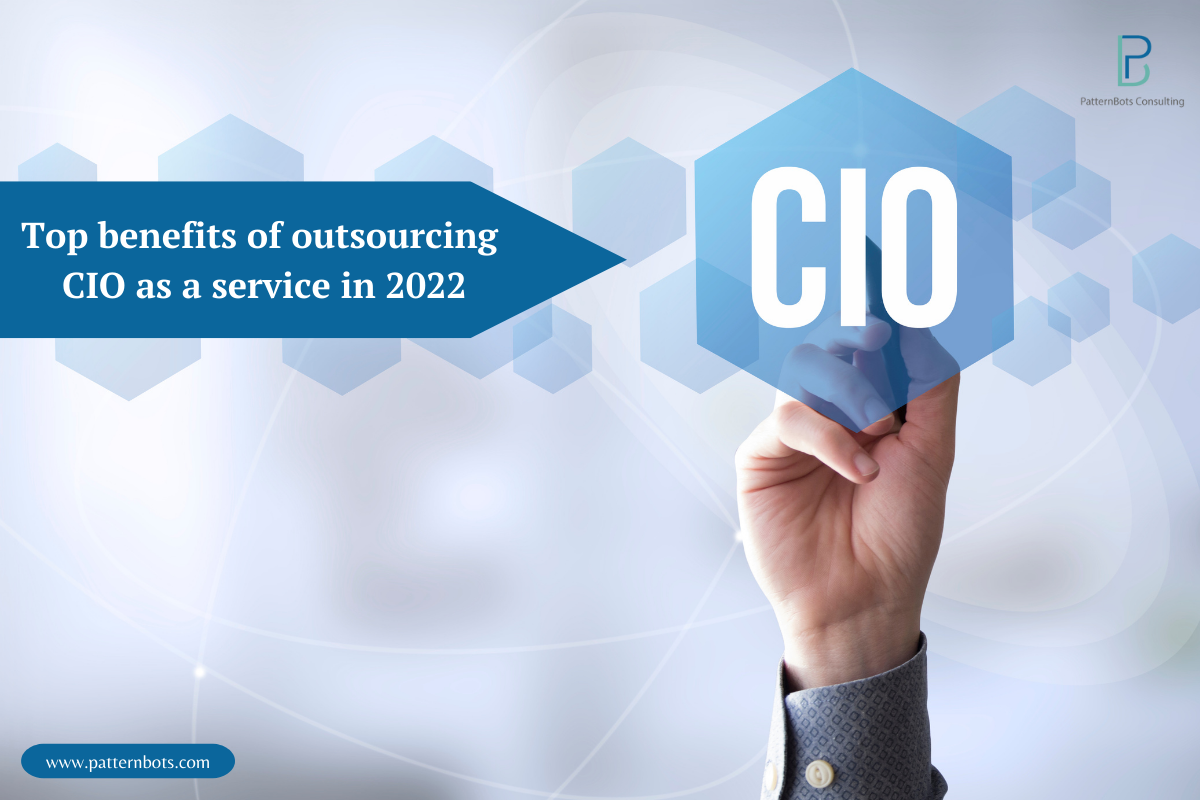 Benefits of outsourcing CIO as a service
For all kinds of businesses, outsourcing has become the new normal, from small startups that can't maintain sizable in-house staff to large enterprises that prefer to outsource or share the distribution of labour. One popular option is engaging in an outsourced CIO service instead of hiring executive-level talent permanently. Let's examine the benefits of outsourced CIO arrangements and how to obtain the equivalent of this expertise from PatternBots; IT managed services team.
However, the question is, why might you will outsource this pivotal role? Well, a very young or small company that lacks budget cannot bring a permanent CIO on board or if a company has recently lost its CIO and needs to fill the talent and knowledge gap fast and efficiently. Moreover, you don't need an actual CIO, but you need an experienced and professional strategist who can help you build an IT department. 
Here at PatternBots, we can provide you with a level of expertise for your company through IT consulting services. We create an entire IT system from the introductory level based on detailed discussions with clients about their goals, needs, capabilities, and challenges. We also lend technological experience and insights to whatever ongoing changes are required in the IT department.
Contact us for more details if you or your company seek CIO-level knowledge and skill without hiring a permanent CIO. We can help you create the technological future of your dream.
Here is the list of top outsourced CIO benefits:
Faster business growth
Choosing an experienced and professional CIO positively impacts a company's growth. A competent CIO knows how to draft a detailed IT strategy that aligns best with the business goals and needs. CIOs also focus on the execution of the strategy and help a company mature its IT operations.
Lower operational cost
Hiring an outsourced CIO saves costs in hiring, training, and paying a permanent employee. The outsourced CIO gives its 100% without getting distracted by traditional office politics. With an unbiased third party with a more focused approach, the CIO can deliver better results in a shorter period.
Use of IT innovations
It can be strenuous to work on the latest technology and tools and keep tabs on the most suitable IT solutions. In such a situation, an outsourced CIO comes in handy. A professional and experienced CIO discover and suggests the best solutions based on experience and helps the company grow. Internal IT team members also receive guidance on how to put modern solutions to work. 
Read More – Reasons Why Startups Need To Outsource CIO Services
Faster implementations
A CIO with solid industry experience reproduce excellent results in similar businesses. Leaders search for experienced CIOs who have worked in similar companies and have proven high-performance records.
Improved return on investment
Technological advancement boosts business performance. However, without a CIO's professional guidance, the IT investment may not generate the expected results. A competent CIO knows how to set appropriate budgets and boundaries and IT spending without affecting productivity and ensure every dollar is spent efficiently, which yields good returns.